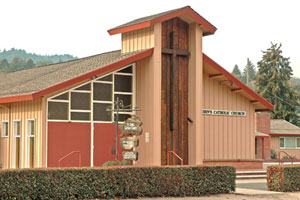 Nested in the Santa Cruz Mountains along the San Lorenzo valley, Saint Johns Catholic Church welcomes all campers and visitors to the neaby Henry Cowell state park and Roaring Camp Railroads. We are located in Felton, surrounded by redwoods, just a few minutes away from either Santa Cruz or Scotts Valley.
We host the Dominican Wellness Van and a lunch for the less fortunates every Thursday.
Our community is very sociable, come and join us for coffee and donuts after the Sunday 8:30 Mass.
Letter from Father Roy
December 2018
Dear Brothers and Sisters,
"Christmas is in our hearts!" This is the title of a song written by Jose Mari Chan.
I always recall this line in that Christmas song written &composed by our native music artist in the Philippines. I used to enjoy this music when Iwas growing up in my hometown. Even as a toddler, I already understood the meaning of this song: "Christ dwells in our hearts". With that being said, let me invite you to reflect and feel the presence of God within us. Our church is a living temple of God. All of us are part of this temple....which is The Body of Christ.
For the past nine weeks, we have been praying to The Body of Christ for healing, unity& forgiveness. This is our response to the present crisis of our church. I am very grateful that, as your Pastor, I have the opportunity to walk with you in good or painful times of our lives as we call upon The Body of Christ. I would like to encourage you to continue to pray for our church as there will be more challenges to face in the future. I believe that the greatest gift we can have this Christmas is for our church to have healing and conversions.
I may have already mentioned this last year that I will write a Christmas Appeal to you as part of our fundraisers in our church. Every year there are only three opportunities that I can ask for an extra amount of your support for our church. Aside from this Christmas Appeal, the other two opportunities are the AMA and the LUAU.
As I have mentioned earlier, "Christmas in our Hearts" reminds me of my childhood. Even as a child I knew the most important part of Christmas is to always have Christ in our hearts. I would like to use this song as an invitation for you to listen to Jesus speaking to your heart and asking you to help our church. Whatever you can give as a gift this Christmas, will always be a significant gesture of support to the Living Temple of God, The Body of Christ.
In spite of what is going on in catholic communities worldwide, always bear in mind that "Christ is the same as yesterday, today and forever!" (Hebrews 13:8)
Sincerely Yours in Christ,
Rev. Roy Margallo
Pastor
St. John's Catholic Church