Mass Times:
Sat: 4:00 pm
Sun: 8:30 am, 11:30 am
Wed/Thu/Fri: 8:30 am


Healing Mass: 6:30pm
2nd Wednesday of the month


Sacrament of Reconciliation

Sat 3:00-3:30 pm

---
Fr Roy Margallo
Pastor

---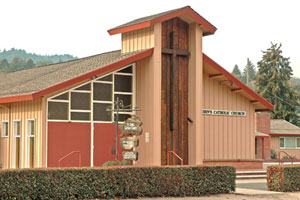 Nestled in the Santa Cruz Mountains along the San Lorenzo valley, Saint Johns Catholic Church welcomes all campers and visitors to the neaby Henry Cowell state park and Roaring Camp Railroads. We are located in Felton, surrounded by redwoods, just a few minutes away from either Santa Cruz or Scotts Valley.
We host the Dominican Wellness Van and a lunch for the less fortunates every Thursday.
Our community is very sociable, come and join us for coffee and donuts after the Sunday 8:30 Mass.
---
Diocese Announcement
Bishop Daniel Garcia will celebrate First Saturday Mass at 9:30 a.m., Saturday, October 5, at Holy Cross Cemetery Chapel in Santa Cruz, 2271 7th Avenue.
The Bishop will also bless the new glass cremation niches built inside the entrance to the Chapel mausoleum.
Refreshments will be served after Mass and all are welcome
Lasagna Diner
Saturday October 12 at 5:00pm
in the Parish Hall