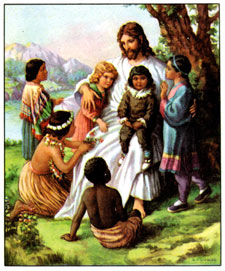 Religious Education Program
Catechetical Sunday September 20th 2015 "Safeguarding the Dignity of Every Human Person."
Each year a theme is chosen by the United State Conference of Catholic Bishops Catechetical Sunday we celebrate Catechetical Sunday to honor those who serve the Christian Community.
This year's theme reminds us that the dignity of each human person rests in the biblical teaching (Gen 1:26-27) that he or she is made in God's image and likeness. It also reminds us that we the baptized may need to actively support and protect others from all sorts of harm, cherishing human life from the moment of conception to a natural death.
As in past years, a variety of materials have been prepared to assist pastors, parish catechists, Catholic school teachers and the faithful in celebrating Catechetical Sunday, not only in September, but also throughout the 2015-2016 year. These materials are provided free of charge. USCCB Publishing will also sell printed copies of prayer cards, family commitment cards, posters, and certificates in English and Spanish.
I pray with you that we may be vigilant in affirming and nurturing our God-given human dignity in spite of every challenge. Let us use the coming year to reflect on how the Bible, and in particular the Ten Commandments and the Beatitudes, provide the spiritual and moral foundations for our Christian life. And let us eagerly join with the whole Church in thanksgiving and personal witness to the joy of living the Gospel day by day.
Quoting from the Catechism of the Catholic Church Education in the faith by the parents should begin in the child's earliest years. This already happens when family members help one another to grow in faith by the witness of a Christian life in keeping with the Gospel. Family Catechisms precedes, accompanies, and enriches other forms of instruction in the faith. Parents have the mission of teaching their children to pray and to discover their vocation as children of God. The parish is the Eucharistic community and the heart of liturgical life of Christian families; it is a privileged place for the catechesis of children and parents.
"The role of parents in education is of such importance that it is almost impossible to provide an adequate substitute."
Our parents here at St. John's provide good energy, patience humor and compassion. Many of our parents have special gifts that help to enrich our activities. For example gifts in reading a story, reading a prayer or assisting with a craft that reinforces the Gospel teaching. Our parents don't watch from the sidelines but are directly involved in their child learning and also participate in the lessons. We symbolically brought the walls down and began to work together during our Sunday Sessions of 60 minutes or so. A person asked me one year "what do you expect to teach in only one hour?" My answer was "Our 60 minutes turn into 60 moments of God's time. Our catechists are really facilitators and guides when working with our parents. We provide needed materials a prayer space and a group involvement of the lessons we are reading.
Our quality 60 "moments" start with an opening prayer. Its delights me to see how our students have taken over reading prayers. Everyone wants to participate. Our youngest student who hasn't learned to read raised his hand to try and say the prayer. His Dad stood behind him and read the opening prayer. We work together on the Gospel Readings using word puzzles, fill in the blank words, and hands on crafts. Whatever works to understand the message of Living the Good News.
We share our stories. Our weeks challenges and how we can improve difficult moments.
We Pray....We pray together learning the traditional prayers of the church, prayers from written poems or talk directly to God about our thank fullness for friends and family.
We Learn....We learn the liturgical seasons of the church, symbols and the meaning of the Gospel with open discussions.
We built our arts and craft skills....to reinforce the Sundays theme. Our on going theme last year related to Respect for all of God's Creatures.
Making Room for Families to be together in Faith allows all of us quality time to deepen our faith as Christians.
Back to this year's theme...
From the Theological Spiritual and Practical Meaning of the Eucharist which I've printed copies.
A meal, especially one with family and friends, and particularly on an occasion of celebration, is an opportunity to deepen closeness, bonding, communion, and even union. It is an intimate occasion. Think by contrast of meals taken alone or with strangers or when there is tension and resentment, and how the meal then is somehow lacking in harmony. Jesus gave us the Eucharist at the Last Supper. But in this case, we not only eat with the host of the meal, we also eat and drink the consecrated host and wine and thereby becoming one with each other as we become one in Jesus Christ.
Our meals at St. John's Church during game night is an extension of our time together on Sundays. Game Night provides quality time for families. We pray before the meal and laugh at trying to play the games. Our faith community of parishioners and families participate in a wonderful meal and laughter. I'd like to invite you to our Winter Game Nights. The dates will be posted on our web site and were in the last bulletin as an insert. Called "Mark Your Calendar."
Thank you Noli Farwell